Salty's 747 gets its biggest update yet, now includes the WT flight plan manager allowing directs, holdings, and more
Salty Simulations' modification of the default 747 is an essential requirement for those looking to get some kind of in-depth enjoyment of the Queen of The Skies in Flight Simulator. While not as comprehensive as the A32NX from FlyByWire, it brings a welcome set of enhancements to the default 747 experience. This weeks' update, which places the mod at version 0.4.0, is the biggest one yet and includes a number of exciting new features.
Salty is taking advantage of the work that another talented team of developers, Working Title, has already put into the sim. Their custom Flight Plan Manager has now been ported to the 747, allowing a bunch of long-waited features such as 'direct to' functionality, holds, route changes, custom waypoints, and more.
Besides the niceties that are now possible with the integration of the WT flight plan manager, you will also find that SimBrief integration (which was added on the previous 0.3.0 update) will now work properly for airways and coordinates, TCAS traffic has been added to the ND, numerous VNAV and autopilot features have been added, and a fully functional jettison system is now in place.
The release notes for this new update are quite long, so make sure to check all that is new below.
As usual, Salty's 747 mod v0.4.0 is available for download from the official GitHub page.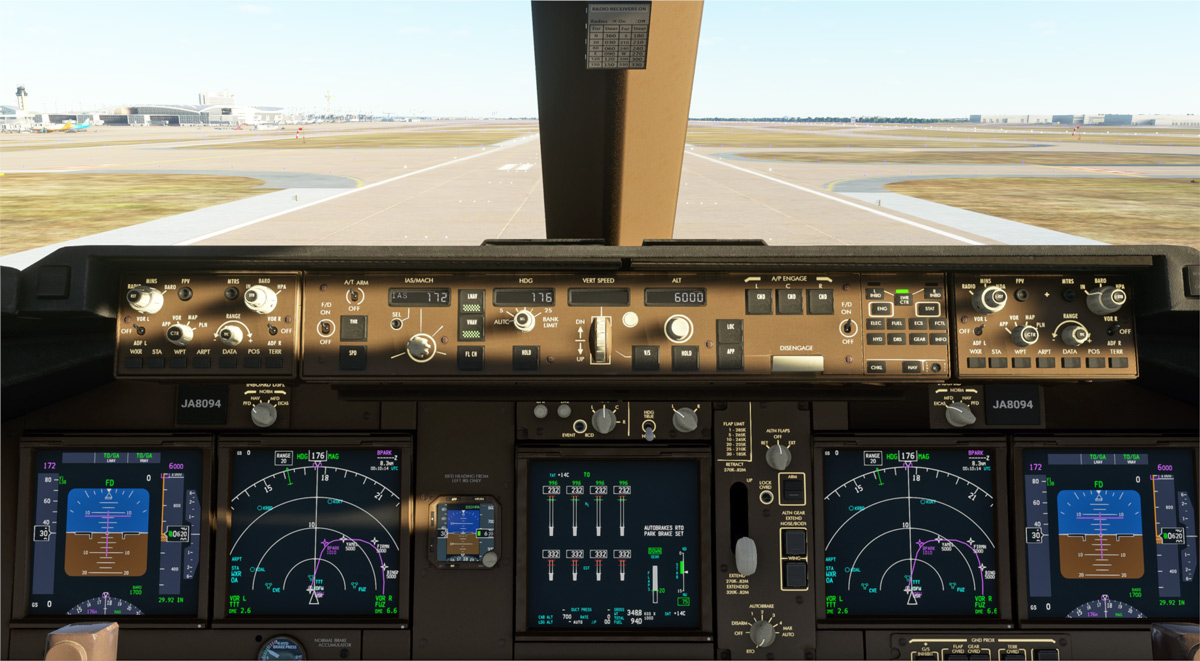 Version 0.4.0 release notes:
[FMC] Custom Flight Plan Manager from WT integrated, allowing directs, holding, route changes, custom waypoints etc.
[FMC] Added direct to functionality.
[FMC] Added holding functionality.
[FMC] Route changes are now possible.
[FMC] Custom waypoints, such as precise coordinates and waypoints based on distance are now possible.
[FMC] Redesigned FMC DEP/ARR, RTE and LEGS pages.
[FMC] Added new FMC hold page.
[FMC] Added new custom font to CDU.
[FMC] Updated VNAV pages layout for accuracy.
[FMC] SimBrief now properly uplinks airways and lat/long points.
[FMC] Fixed FMC failing to initialise bug.
[FMC] Corrected FMC cruise altitude formatting.
[TEXTURES] Added new decals to cockpit panels.
[SOUNDS] Added minimums GPWS callout.
[SOUNDS] Added new OVERSPEED warning sound.
[SOUNDS] Enabled Asobo "SINK RATE" and "PULL UP" aural warnings.
[EICAS] Added reverser "REV" indication to upper EICAS display.
[AUTOPILOT] Target MCP alt can now be actively changed when not in ALT hold modes.
[AUTOPILOT] Autothrottle now uses more thrust in FLCH SPD and VNAV SPD.
[AUTOPILOT] Fixed FLCH bug below 3000′.
[VNAV] Added VNAV ALT mode, VNAV will now stop climb/descent when reaching MCP altitude.
[VNAV] Custom climb, cruise and descent speeds can be set in VNAV FMC pages.
[VNAV] Pushing ALT knob now sets new higher cruise alt in FMC in climb phase, and no longer changes it in descent phase.
[VNAV] Fixed bug causing FMC to enter Descent mode when step climbing in VNAV.
[A/T] Tuned A/T PID for better autothrottle response.
[PFD] Added altitude alert system when approaching MCP altitude with aural warning.
[PFD] Redesigned heading indicator on PFD.
[PFD] Polished some cosmetic elements on PFD.
[PFD] QNH can now be preselected on PFD when in STD mode.
[PFD] Added new pitch limit indicator (PLI) to PFD.
[PFD] Fixed stall tape sometimes not being visible.
[ND] Added TCAS traffic.
[ND] Added track line to ND.
[ND] Heading bug dashed line now hides after 10 seconds of not being moved when not in HDG SEL or HDG HOLD.
[ND] WX radar returns from behind the aircraft no longer show.
[ND] The temporary flight plan dashed line no longer draws beyond what is needed, increasing performance.
[ND] Minor cosmetic changes.
[EICAS] Pressurisation info is now hidden from upper EICAS when not displaying ENG.
[FUEL] Added fully functioning fuel jettison system.
[FUEL] Added EICAS messages related to STAB tank pump operation.
[MODEL] Adjusted default state of various knobs.
[MISC] Slightly shrunk the size of all displays to add a "deadzone" edge area as present on the LCDs.