DLSS 3 launches for MSFS on October 17, promises massive performance gains on RTX 40xx cards
Microsoft Flight Simulator is about to get very significant performance improvements… for a price. NVIDIA revealed that the much-touted DLSS 3 implementation is coming to our beloved simulator on October 17 with the next beta version of the platform (Sim Update 11 Beta). Sadly, you'll need to have an RTX 4090 graphics card to enjoy this technology, which costs an eye-watering $1,599… or around €2,000. Ouch.
The good news is that the predictions made during NVIDIA's presentation last month seem to be a reality. Independent early impressions from the last couple of days reveal nearly double the framerate in MSFS between DLSS 3 on or off, in the RTX 4090!
NVIDIA's own numbers are now clearer than before. For example, the 4090 runs MSFS at an average of 74 fps, at 4K with Max settings. This is already a 20 fps jump over the 3090 Ti. These numbers get even more impressive when DLSS 3 is enabled, which brings the framerate in MSFS to a whopping 152 fps, more than twice the number when compared with the 3090 Ti with DLSS 2. Truly groundbreaking!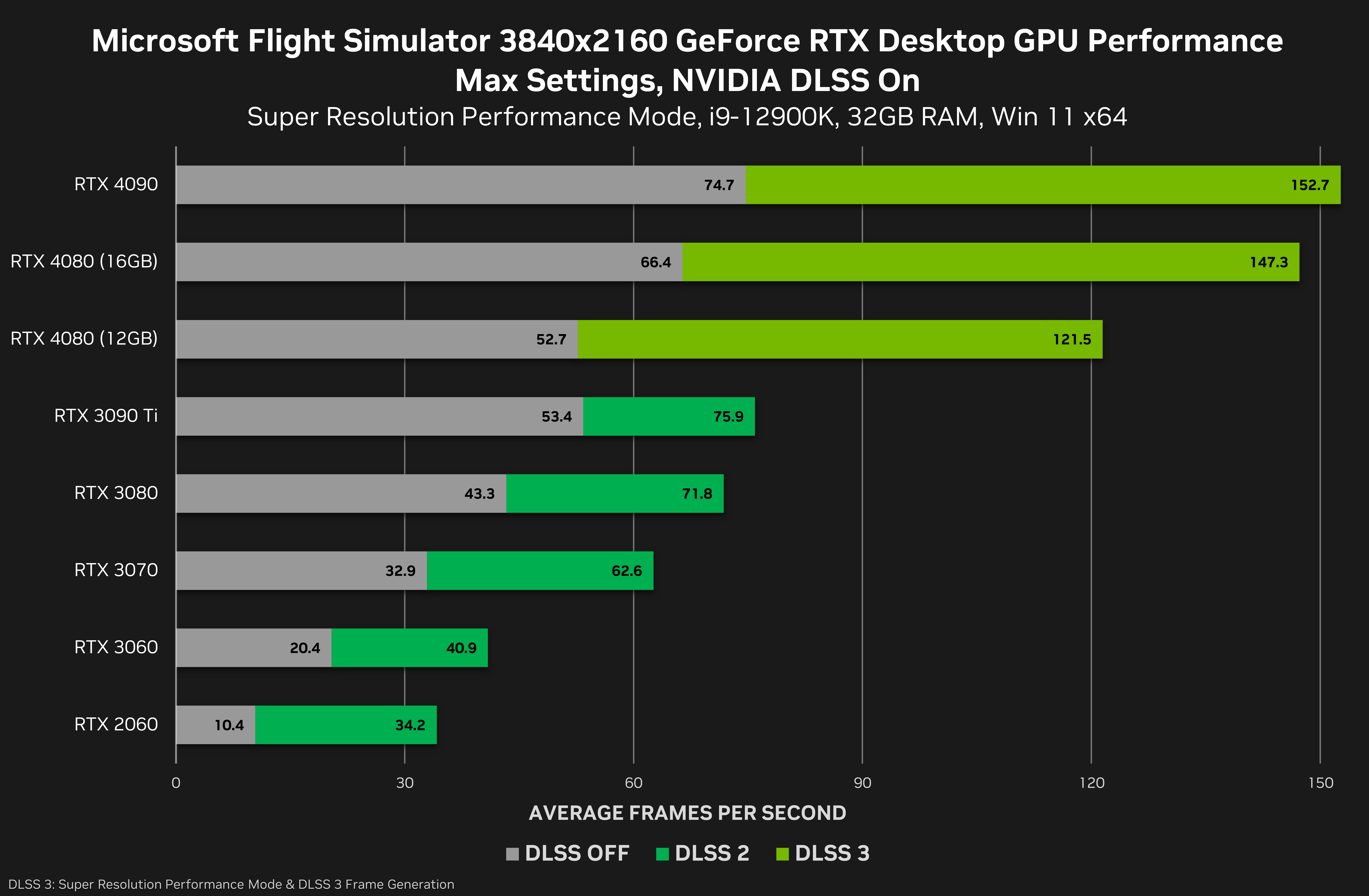 The fact is that Microsoft Flight Simulator is the perfect candidate for this kind of technology. When the CPU becomes a bottleneck, as is the case when running the game with high-end GPU's, there's not much room for frames to increase. With DLSS 3, the GPU tackles CPU's limitations and brings a truly dramatic performance jump that can be a literal game-changer for many simmers.
With this in mind, simmers who have managed to get an RTX 4090 (the 4080 is only coming out next month), or are waiting for one to arrive in the next few days, will be happy to know that DLSS 3 will be available in Microsoft Flight Simulator come October 17th. A new beta version of MSFS will be out that day – Sim Update 11 Beta – with support for NVIDIA's latest and greatest new tech.