London Heathrow Airport is now available for Microsoft Flight Simulator
Following on a short preview earlier this month, iniScene has now released its re-creation of the UK's largest airport. EGLL Heathrow Airport is now available for Microsoft Flight Simulator, ready to handle your long-haul flights across the world.
Heathrow is a large infrastructure that would always be a handful for any developer. It seems iniScene took this task to heart, with a long list of features that include over 80 custom buildings, over 10.000 car models, custom signs, and much more.
Some of Heathrow's most notable points of interest have also been included, like the famous British Airways G-BOAB Concorde or the Emirates A380 roundabout. Furthermore, animated elements have been added across the scenery, such as radio towers and construction cranes.
There's a lot to unpack in Heathrow, as one of the largest and busiest airports in the world. With plenty of routes to almost every country on the planet, serviced by the world's largest airlines and most popular jetliners, MSFS simmers will have a variety of opportunities to re-create these real-world operations.
Heathrow Airport is iniScene's largest project to date, and it's now available for £17.99. Currently PC-only, it should be available soon for Xbox pilots through the MSFS Marketplace.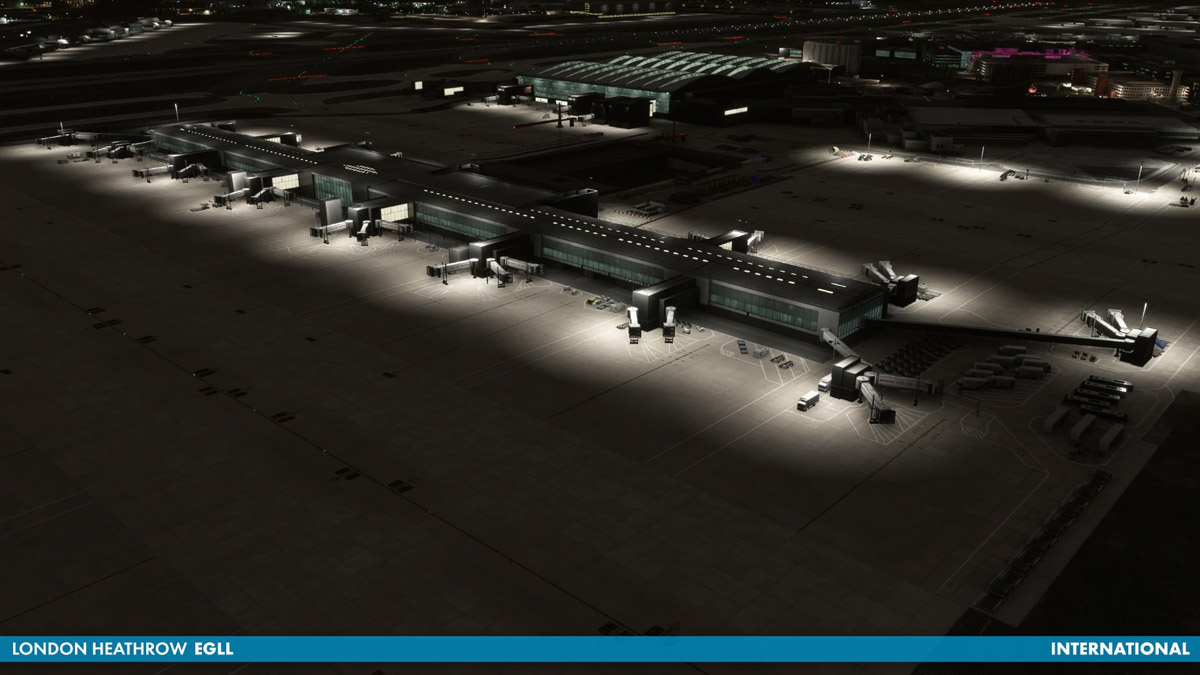 Features list:
80+ custom modelled and textured POIs and buildings in and out of the airport boundary with accurate PBR texturing.
10,000+ custom iniScene car models scattered throughout parking lots outside of the airport boundary.
Aggressive performance saving methods featuring LOD model optimization (Level of Detail) and meticulous optimization where possible throughout the scenery.
Full Xbox compatibility and optimization when purchased on the Microsoft Store for Xbox.
5 accurately-placed jetway variations with realistic PBR texturing and animations.
Hand-made ground polygons featuring custom decals, dirt, taxi lines and ground markings.
Over 430 custom made and hand placed taxi signs dotted throughout the airfield as in the real world.
Main airport landsides with ground markings and lighting faithfully re-created.
British Airways Concorde G-BOAB faithfully recreated and on-display before runway 27L.
Over 2,500 individually placed accurately colour toned airport lights scattered around the terminals.
Accurate logos and real-world decals scattered throughout the airport to promote a true to life feeling.
Custom-created, accurate and known landside points of interest such as the landmark 
Emirates A380 and Turkish Airlines roundabouts.
Hand-corrected, colour accurate ortho imagery.
Hand-placed bespoke ground service equipment at each gate featuring over 2,000+ containers, 2,000+ cargo dollies and a plethora of various static equipment.
Animated points of interest including radio towers and construction cranes.