Microsoft Flight Simulator (MSFS) was released just near the end of 2020, but the amount of amazing and free addons and mods is already overwhelming. This is our regularly updated selection of the best FREE addons and mods for Microsoft Flight Simulator, ranging from aircraft to airports, utilities, liveries, and more, so that you can quickly find what are our best recommendations in each category.
Keep coming back for updates, we will continuously review and add new awesome free addons (current version is from August 2022). And if you think there's something missing, feel free to let us know in the comments below!
Latest changes:
NEW – HCG Cabri G2 – a fun a nicely-detailed light helicopter
NEW – Floyd's Epic Clouds – 6 beautiful weather presets
NEW – Moving Aircraft Carrier with LSO – use the Top Gun carrier in Free Flight mode
NEW – EGSU Duxford Airfield – a remarkably-detailed historical airfield in the UK

Aircraft
The HCG Cabri G2 is powered by AirlandFS, a freeware tool that introduces custom flight dynamics to MSFS, used by other helicopters such as the Robinson R44, and is even supported by the H145. AirlandFS is known to have enabled the easy implementation of a realistic rotorcraft flight model in MSFS. The Cabri G2 also features pretty good visuals, with a detailed 3D model and high-quality textures. Besides, there's a custom soundpack for the audio, floats, and even support for the PMS50 GTN 750!
A new freeware airliner has surfaced for Microsoft Flight Simulator. Freeware airplanes for MSFS have often been announced but left undelivered, but this one is coming straight to the spotlight, ready to install and enjoy in the simulator. It's the Headwind A330neo-900, a replica of the modern Airbus widebody jetliner. While still a work in progress, there's already a lot to like about this project! Features complete integration with the FBW A32NX cockpit.
A Community build from Rotor Sim Pilot (along with the H125), this freeware Robinson R44 for MSFS features a highly realistic flight model powered by AirlandFS. It's still in beta, but already provides one of the best rotorcraft experiences in the simulator, and it's well worth a look if you like helicopters!
The Got Friends Discus-2c comes with several innovative features in MSFS, such as the built-in Winch Launch Control or the 6 weather presets designed to generate the conditions for thermals in the simulator. 
It's all very easy, and in no time you'll be soaring over the amazing scenery that MSFS is capable to generate. Obviously, you have a variometer and its distinctive sound, necessary to know when you're flying across rising or sinking air. When you find that thermal, it's great fun to track it and go up and beyond!
Dee Jing's very impressive freeware RV-7 for MSFS comes with 4 different model combinations: the tail-wheel RV-7 and the tricycle-gear RV-7A, both with a choice between a G1000 glass cockpit and an attractive alternative with classic gauges.
The overall model is quite impressive for a freeware project. The exterior is very well done and detailed, with impressive textures that put many payware projects to shame. The same applies to the cockpit, where some 3D objects come from other default aircraft. The end result is an aircraft that presents itself as a very pleasant surprise, offering a compelling freeware choice to try if you're tired of the default general aviation airplanes.
Arguably the most impressive endeavor from the flight sim community so far, the A32NX brings the default A320neo to as close to reality as possible by improving the systems depth and overall functionality.
It has been constantly updated at every level, counting with the close support of over 30 real A320 pilots, and is now a payware-level aircraft in its depth and realism. If you care about airliners, this is the one to get!
The H135 is a project by the Hype Performance Group, a team of talented developers who set out to create something that was tragically missing from Microsoft Flight Simulator: a helicopter. Their work has paid off immensely: it has since become one of the most popular freeware addons for MSFS.
Taking off in the H135 and flying over the beautiful MSFS scenery seems like the thing this sim was built for. There's no better way to enjoy the best landscapes MSFS has to offer than peeking down from this helicopter!
A comprehensive remake of the default Bonanza G36, the Bonanza Turbo recreates the turbo-normalized aircraft with improved climb and cruise performance, and is an absolute joy to fly in MSFS.
V2 brought improved lights, engine performance and flight dynamics, while also giving you some new liveries to try on. Currently one of the best GA aircraft for MSFS.
Salty's 747-8 Mod is one of the most impressive community mods for Microsoft Flight Simulator, with the goal of improving the default 747 into a more realistic and functional aircraft. It's a similar goal to FlyByWire's A320NX, but this time for the Queen of the Skies.
There are several improvements over the default 747, like a funcional IRS knobs, several functional EICAS pages, and more. There's even improved wingflex.
Another mod for one of the default aircraft, this time for the Cessna Citation CJ4. Working Title is a new dev team dedicated to the improvement of the CJ4 avionics and flight model. Currently already with much improved systems and visual changes in the FMS, PFD and MFD, but also in lights and sounds.
It's even possible to import flight plans from Simbrief into the FMS, a specially cool feature.
This mod for the stock Savage Cub turns it into a "more powerful, stronger and meaner" aircraft, a true bush machine capable of the most astounding short takeoffs and landings. It's (appropriately) called Savage Carbon, and it's available for free, courtesy of GotGravel.
This is a custom-built aircraft that is both versatile and very powerful, which makes it loads of fun to use while hopping between the most challenging bush strips. Seriously, you should try this on our recommended Idaho and Oregon strips and see how cool it is!
There's also a nice collection of liveries (19 in total), so you're likely to find a look that suits your style.
A full conversion of the beloved FSX amphibian that took the original model and re-did it with upscaled PBR textures, a proper flight model and brand-new code that brings this iconic aircraft up to MSFS standards.
The end result is an airplane that manages to look absolutely gorgeous in MSFS, despite the somewhat "low polygon" model that is still the original one from MSFS. The truth is that the work these developers did with the textures turns it into a completely different machine. The cockpit, in particular, looks absolutely beautiful, with 3D gauges that were never there before. It easily passes as a fully native MSFS airplane, if it weren't for the couple of digital instruments on the overhead pane that are still in 2D.
Airports
Developer Jayshrike has devised a way to release the aircraft carrier from the chains of the Top Gun: Maverick expansion and bring it to 7 locations around the USA. And it comes will full functionality, including the Landing Signal Officer, who provides handy guidance as you approach the carrier for landing, but also functional arresting cables and catapult launch system.
Now you can use your F/A-18 Super Hornet or any other supported aircraft in free flight and practice landings and launches from a moving aircraft carrier, which is pretty much what everyone was waiting for!
*NEW* – EGSU Duxford Airfield – a remarkably-detailed historical airfield in the UK
GSU Duxford Airfield is a creation of developer ChicoMick. It includes all the buildings of the Duxford War Museum, which contains Duxford Airfield and the War Museum. All in all, this is Europe's largest air museum, a rich scenery with plenty of amazing things to see both in the real-world and now in Microsoft Flight Simulator.
The developer says this is literally a "Virtual Duxford", such is the detail that has been put into this scenery. All the buildings in the premises of the Duxford War Museum have been re-created in great detail, along with impressive models of the British Airliner Collection and many other authentic features across the entire scenery.
Gatwick Airport (EGKK) is a large international airport in the UK, currently the second busiest, after Heathrow. It's unique amongst London's airports for serving three types of traffic: full service, low-cost and charter. A bustling airport full of activity, perfect for those flying the big jets.
In Flight Simulator, this large international hub is not very accurately represented, but thankfully, we have a stunning alternative that is very highly detailed and, best of all, completely free!
Given its size and complexity, this would be an impressive work from any of the known development studios, but coming from a single independent developer, who is not charging a dime for it, makes this version of Gatwick that much more magnificent. A must-have if you like large airports!
Also in the UK, Stansted Airport is currently the fourth busiest airport in the UK, with a fast-paced growth that will soon have it surpass Manchester Airport and jump to third place. It's known as the primary hub for Ryanair, but many low-cost airlines operate here, with over 160 destinations served across Europe, Africa and Asia.
Developer Liam Gathercole put his lockdown time to good use, spending months of work on a project that effectively brings something a lot of people have been looking for: a realistic and high-quality recreation of the very busy and popular Stansted Airport for MSFS. It's something no other developers have managed to put out yet. We know Gaya Simulations has this scenery in its roadmap (and we're sure it will look very good), but Liam Gathercole has just brought joy to so many pilots with such an impressive work that it no longer feels like Stansted is a gap to be filled in MSFS. It has now been delivered for everyone to enjoy, for free!
Closed since 1998, Kai Tak Airport remains as a memory of one of the most famous and difficult landings in the world. The airport no longer exists in Flight Simulator, replaced by the much bigger, more modern and safer Chek Lap Kok International Airport. And that's a shame, because everyone loves a great challenge!
Thanks to the dedicated work of an independent creator, ali501, you can install today a free version of the beloved Kai Tak airport, and fly there in Microsoft Flight Simulator. You can finally recreate that unsettling experience of landing in Kai Tak, and prove your worth among the most capable pilots from that golden era of aviation.
Flight Simulator, in its current state, is the perfect sandbox for general aviation and bush flying, more so than for airliners. Thanks to the amazing virtual world, flying low and slow and landing in precarious circumstances has never been so fun! Some of the best places in the world for this kind of experiences are Idaho and Oregon, with their countless bush strips scattered across the vast, empty wilderness of the two states.
Unfortunately, many of these strips are missing from MSFS, but thankfully someone saw the opportunity to create something truly special, and that's what Kronzky did, with the release of many of these strips, including the famous (and very tiny) Mile Hi and Dewey Moore strips. There's many more in the pack, which should be enough for hours of adventure landing and taking off from these perilous strips.
One of the very first airports to come out for MSFS was this high quality release by Aerosoft. It's a showcase of the technologies made available with MSFS for airport creation, with custom runway and taxiways, realistic night lighting, and more.
Notre Dame de la Salette (LF3826) – LFPS is a very sloped strip in France, just at the southernmost arm of the French Alps. Its very demanding approach and steep slope will surely test your skills as a bush pilot. As a bonus, the views are breathtaking!
It's not just the landings that are a challenge. Takeoffs are non-standard, meaning you have to decide wether to roll down the mountain to the West our the South. Pick your poison! Either way, you must gain enough speed for takeoff, or crash into the unknown.
We've already selected 5 great free airports (Paderborn is one of them), so check this link to know more about them and choose which may be more interesting. They range from bush strips to nostalgic airfields that no longer exist, so there's a little to everyone!
Scenery
Floyd's Epic Clouds features 6 distinct weather presets that, above all, look quite cool while flying at different altitudes! With different layers and a variety of different conditions, these 6 presets provide a great alternative to the default scenarios. Easy to install and use alongside your existing presets!
Developer mamu82, who brought us the also excellent Project Lifts with its cable cars, gondolas and chair lifts for MSFS, is back with a similar mission: to fill the world of MSFS with powerlines and solar farms, according to existing data from OpenStreetMap.
Powerlines are very important to take into account when flying, because they are one of the most serious hazards when closer to the ground, and especially when near an airport. This mod takes this into account, so you should see special powerlines with red/white ball markers when near an airport, and the same applies to the pylons that support them.
MSFS is rich in real-world landmarks that allow for seamless VFR flights around the world, but many are surely missing, most notably communication towers, antennas, etc. PuffinFlight saw the opportunity here to create something that enriches this experience for everyone, and started the 'We Love VFR' project, which aims to improve the MSFS object library with thousands of accurately placed new objects. After Region 1, which covers the whole Europe and also Northern Africa, the developers recently released Region 2, focused on North and South America.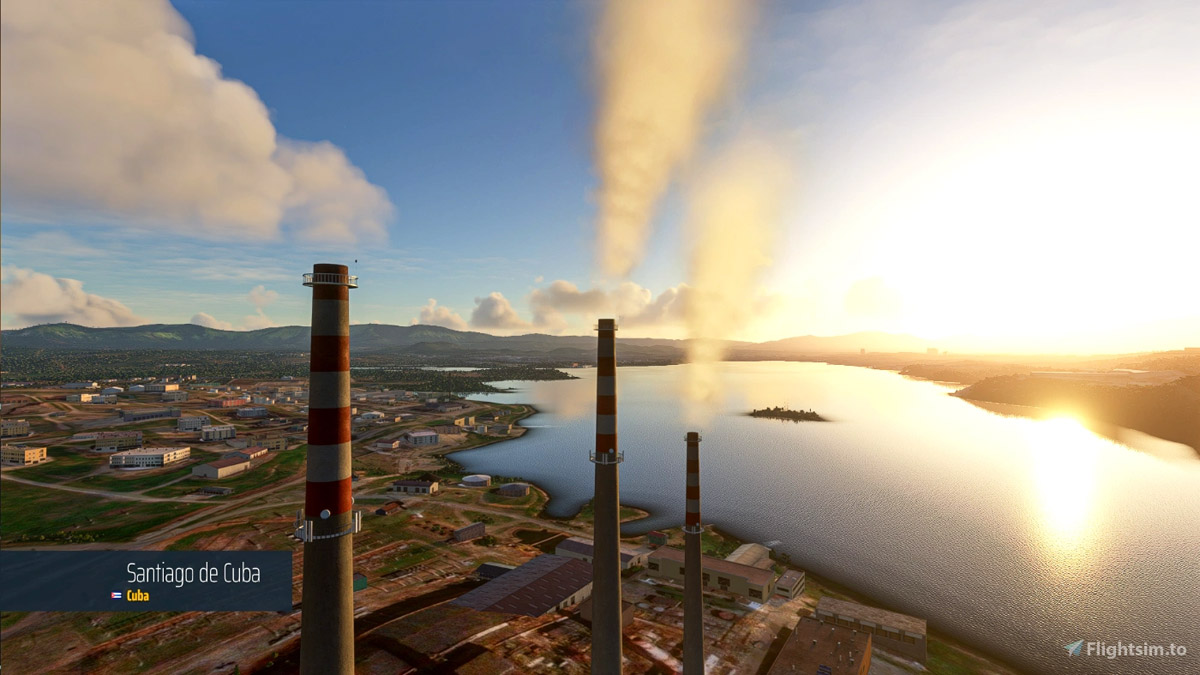 Global AI Ship Traffic includes countless ships of all types, from small fishing boats to large aircraft carriers, and everything in between. They are realistically placed all over the world, based on real-world routes and on the most common ship types that can be found in specific regions of the world.
The idea here is to populate the seas with real-world ships that go about their lives across the vastness of the oceans. Some are small sailing boats that you will only notice when flying low and slow, others are large container ships that will still be visible from 40.000 feet. There's a lot of variety: cruise ships, tankers, fishing boats, military vessels, and more.
Missions
Michael Bonocore's Idaho's Bush Trips for Microsoft Flight Simulator is a set of two adventures, one in Central Idaho and the second in North Idaho, that will take you on a series of adventures across the state. With thousands of miles of rivers, countless mountain peaks and thick forests, it's an absolute bush pilot dreamland. This follow-along experience is available in a paid premium package as well, perfectly integrated within MSFS bush challenges, but the free version works just as well – provided you can alt-tab to your browser and follow the guide.
Utilities
See that white little thingy on the top of the screen that shows whenever you move your mouse? It's a hint that there's a toolbar there full of functions, but you know that already, so why not just get rid of it? Flight Simulator doesn't provide that simple option, but thankfully there's a simple freeware mod that does just that.
It's a good thing then that someone decided it was time to give a choice for simmers to eliminate it. That's what developer ither did, with a simple mod that hides the handle while still enabling its functionality. Now, just over your mouse over the top of the screen, just as you did before, and the toolbar buttons will still appear, without ever showing the handle. A simple magic trick that will certainly save many screenshots!
Sometimes a new tool comes along that brings both simplicity and usefulness to whatever it tries to accomplish. We have seen a few good ones for MSFS, and today we present you FSXmap.com, one of those utilities that we believe can be a great new addition to your Flight Simulator toolbox!
FSXmap.com is an online map, completely free to use, that provides information about all available airports in Flight Simulator, while also being able to connect to the sim and pinpoint your precise location in real-time.
The PMS50 GTN750 mod integrates a very nice and easy-to-use touchscreen that simulates the overall features and operations of the Garmin GTN 750 (with some limitations given the current state of the sim). It's currently available as a basic, free package, that adds the necessary features to fly your flight plan, but there's also a premium upgrade that adds some extended features. 
A modified G3000 that adds many new missing features to the system and greatly improves its look and feel. The goal of this mod is to get a system that functions and looks closer to the real-life units, with a focus on both features and layout/UI. It even includes Navigraph support for the very handy display of charts in the cockpit!
A community driven project that greatly enhances the way you discover new interesting places in the world of MSFS, and gives you small audio tours explaining what they are. These audio clips are automatically played when you approach the location, giving the perfect impression of being in a real-world tourist tour.
Flight Recorder is an external app, a small window with just a few options, in a simple idea that is perfectly executed. When you want to start recording your flight (for instance, when on final approach, to record that landing), just press 'Record' in the app. When you're done, stop the recording, and will then have the option to view the replay and change the views as you see fit.
NeoFly became an instant success, and for good reason. It's one of those neat little programs that can just put a smile on your face. The idea is pretty simple: you are a bush pilot at the service of NeoFly, and your mission is to deliver some cargo. It can also be to drop some "pizza" in a specified drop-zone… or maybe even to carry a medic into the middle of nowhere because some old man fell out of a tree and you have to find somewhere to land nearby to deliver the doctor. See how this can put a smile on your face? An awesome utility that gives some purpose to your flights.
You know the drill: just put it in your Community folder. All these awesome addons that have been released for MSFS, many of which you (hopefully) discovered reading MSFS Addons, need to installed somewhere, and it's almost always on that beloved drop-it-all-here "Community" folder, somewhere on your PC, depending on your installation setup.
Meet MSFS Addons Linker, a handy tool that works in a simple but very effective way: you get all your addons from your Community folder and place them somewhere else, organized in folders as you wish. Then you start this little program and tell it where you have all of your addons stored, and also where is your Community folder. The app will then create a list of all your addons, and to activate them you simply have to tick each corresponding checkbox. It's the magic of symbolic links!
Toolbar Pushback is completely integrated with MSFS, quickly accessible through the in-sim toolbar, or the classic "Shift+P" keyboard shortcut. Then, the little pop-up window where you can actually use the utility shows up, appropriately designed according to the overall look and feel of Flight Simulator's interface.
It allows full control of the tug direction and speed, making it very easy to quickly pushback from a gate or do a precision turn in a tight spot of the airport. Besides giving you these much-needed pushback controls, this little tool also allows you to call ground services with the click of a button.
LukeAirTool gives you the possibility of playing real airline announcements inside MSFS. Later versions included a Passenger Simulator, which allows you to board passengers, serve food and drinks, and more.
It's very simple, really. You can select from a series of airlines (more are being added every time), and when in the aircraft select which ones you want to play. It does add to the immersion and realism of the whole experience, specially if you pair your favorite airline livery with the corresponding announcements.
FSPM VFR Map, created by scelt, is a perfectly integrated toolbar mod that gives you not only a moving map, but also some information about your aircraft (altitude, vertical speed, airspeed and heading). It even tells you wind speed and direction, useful if you can't be bothered with the Garmin.
Besides the basic world layer, there's also a second layer with some info about surrounding airspaces and airports, with some additional nav data. Finally, for those of you looking for a more realistic experience, there's also the ability to instantly teleport your aircraft to anywhere in the world, and choose a preferred altitude and speed.
And this is it folks, our selection of the best free addons and mods for MSFS (so far). This list will be updated whenever there's a worthy new entry. We really want to know your feedback, so please let us know if you think there's an awesome free addon that is missing from this list!
Don't forget to check our Freeware section for the best free addons for Microsoft Flight Simulator!