The Best Flight Controllers For Microsoft Flight Simulator (2022)
So, you've obviously been bitten by the Microsoft Flight Simulator bug and are now looking to put together a new setup, or upgrade your existing one, for the ultimate immersive experience. You've upgraded your PC, booked some time off work and are otherwise ready to log some hours into this brilliant simulator. Now you just need one of our recommendations for the best flight controllers for Flight Simulator! If you're looking to make your time with MSFS as authentic as possible, this is a hardware centerpiece that you really need.
In this post, we outline some great options for joysticks, HOTAS and yoke controllers that can fit any budget. Whether you're a budding pilot just getting their wings or a seasoned Flight Simulator pro, a good controller will always elevate the experience. Even better is a VR headset, and we have some recommendations for you there as well.
In this day and age, manufacturers are still facing serious issues with production and distribution, so be prepared to search for availability and fair prices on many of these products. In any case, check out our list below for the best flight controllers for Flight Simulator and we're sure you'll find a controller that fits both your needs and budget.
The Best
Honeycomb ALPHA FLIGHT
Looking for something on the beefier side? Better have space for this beast of a yoke. The Honeycomb ALPHA FLIGHT is comparable to the Pro Flight in terms of both quality and functionality as well as features. As a well-established producer of flight simulator controllers, you can't go wrong with this one.

It's got a full 180-degree rotation with a reliable centring mechanism to give you that authentic aircraft control. Its got a similar stainless steel shaft to the Logitech's offering as well as ball bearings for a smooth range of motion. While it's made out of plastic, it's still quite sturdy and can withstand quite a beating – but don't beat it. The yoke has two clamps at the bottom to attach it to your desk, on top of its bottom suction cups, to help avoid rocking that may break your Flight Simulator immersion.
Buttons and other controls are divided between the ALPHA FLIGHT's two grips. The setup is similar to the Pro Flight's with an added Push-to-Talk button on the left grip. At its front console, the Honeycomb offering sports an ignition switch and an alternator as well as some light switches.
---
Thrustmaster HOTAS Warthog
The ultimate Microsoft Flight Simulator experience in one single, majestic joystick. The HOTAS Warthog by Thrustmaster packs all it needs to deliver a true-to-life flight experience in your own home. Its authenticity begins with its appearance. Modelled after the same stick used by the US Air Force's A-10C Aircraft (with a military seal of approval), this bad boy is as close to a real set of pilot controls as it gets. Thanks to its military-grade metal build, it's as sturdy as a controller can get.
In terms of controls, it delivers as well with 19 action buttons and an 8-way view nub, all with the same high quality feel as the rest of the stick. If all these inputs aren't enough, the base of this beast boasts 15 more programmable buttons and a Trim wheel so you can customise your flight sim experience until you're blue in the face.
Overall, if you're hounding for the most uncompromisingly realistic Microsoft Flight Simulator experience possible, the Thrustmaster HOTAS Warthog is the stick you want.
---
Logitech G X56 HOTAS
After receiving some criticism with their X55 HOTAS build quality and stiffness, Logitech went back to the drawing board and it paid off. The X56 HOTAS is a far superior product compared to its predecessor. In fact, its feature set is comparable to the Thrustmaster HOTAS Warthog with a similar set of buttons, switches and analogue sticks. The entire stick is made out of a sturdy plastic which is what makes it fall short of the best Thrustmaster offering on this list.
One of the X56's most useful features is its twin mini-sticks. One lives on the joystick while the other on the throttle. For a simulator like MSFS, this allows for superior control flexibility. If you're also a fan of RGB lighting, Logitech's offering has it in spades but even if you don't appreciate the light show spectacle, the backlighting on offer is more than useful for red-eye flight sessions.
The Logitech G X56 HOTAS is a fine stick which makes no compromises in terms of functionality and features. If you're finding the price tag on the Thrustmaster Warthog a bit too much and can forego the military-grade materials, then the X56 is a worthy alternative.
---
Logitech G Pro Flight Yoke System
Logitech holds the crown in this category with their Pro Flight Yoke System. This bad boy sports a stainless steel shaft that feels both weighty and sturdy. It's quite compact but don't let that fool you. This yoke controller packs enough features to help you fly the skies like a real aviator.
The Pro Flight's left grip boasts an 8-way hat stick as well as a 2-way switch. Port side, you'll find an additional 2 switches and an extra button that has quite a bit of click to it. You'll also find an additional 3 buttons on the front side of the yoke, situated beneath a stopwatch display. Three USB ports are located at the top of the Pro Flight Yoke which you can use to connect other Logitech devices such as flight switch panels. The set is completed by a three-lever quadrant throttle with all the trimmings you'll ever need. For an even more complete setup, add the optional rudder pedals and you are pretty much set!
Best Price/Quality Balance
For those who can do without the bells, whistles and US Army seals of approval, we've got a couple of options that work perfectly with Microsoft Flight Simulator and are more affordable without sacrificing quality.
Thrustmaster T.16000M FCS HOTAS
For a stick at this price range, you're getting quite a bang for your buck. Don't let the cheaper-looking body sway your thinking. This is made out of a high-quality sturdy plastic that won't let you down even when you really rack up those virtual frequent flyer miles. The rubberised parts, such as buttons and mini-sticks, ensure you can reliably make those slight adjustments without issue. The stick also boasts Thrustmaster's signature Z-axis controls for that extra layer of precision.
The base of the stick has 6 buttons on both of its sides, for a grand total of 12. That's only 3 less than the Warthog. They don't click as nicely as their pricier sibling but they'll get the job done. There's also a slider at the base with a smooth feel to it which is nice considering sliders tend to be where the budget falls short. The POV hat at the top of the stick is quite beefy which is great for accommodating us that have big sausage thumbs. The throttle is equally well made with a fine set of options, including a mini-stick and quick access buttons.
---
Thrustmaster TCA Sidestick Airbus Edition
Another great alternative for Microsoft Flight Simulator is this thing of beauty. Just like all of Thrustmaster offerings, this stick does a lot for its price tag. Aside from Thrustmaster's signature Z-axis for more accurate rudder control, it also boasts their proprietary Hall Effect AccuRate Technology (a neat way to abbreviate to HEART). In layman's terms, the stick has some of the best precision in the business thanks to its magnetic sensors.
On the base, you've got 6 programmable buttons on either side, just like with the T.16000M which isn't a big step down from the Warthog's 15. Compared to the T.16000M, however, the buttons have a clickier feel to them which makes for better sim experiences. Another advantage of the Sidestick is that its companion throttle, the Quadrant Airbus Edition looks and feels more like a commercial flight inspired controller, complete with replica on/off switches.
The main downside to either of these sticks is that their throttle pieces are sold separately. The combined pricing still places them at the balanced range we're looking for but it's something you'll want to keep in mind.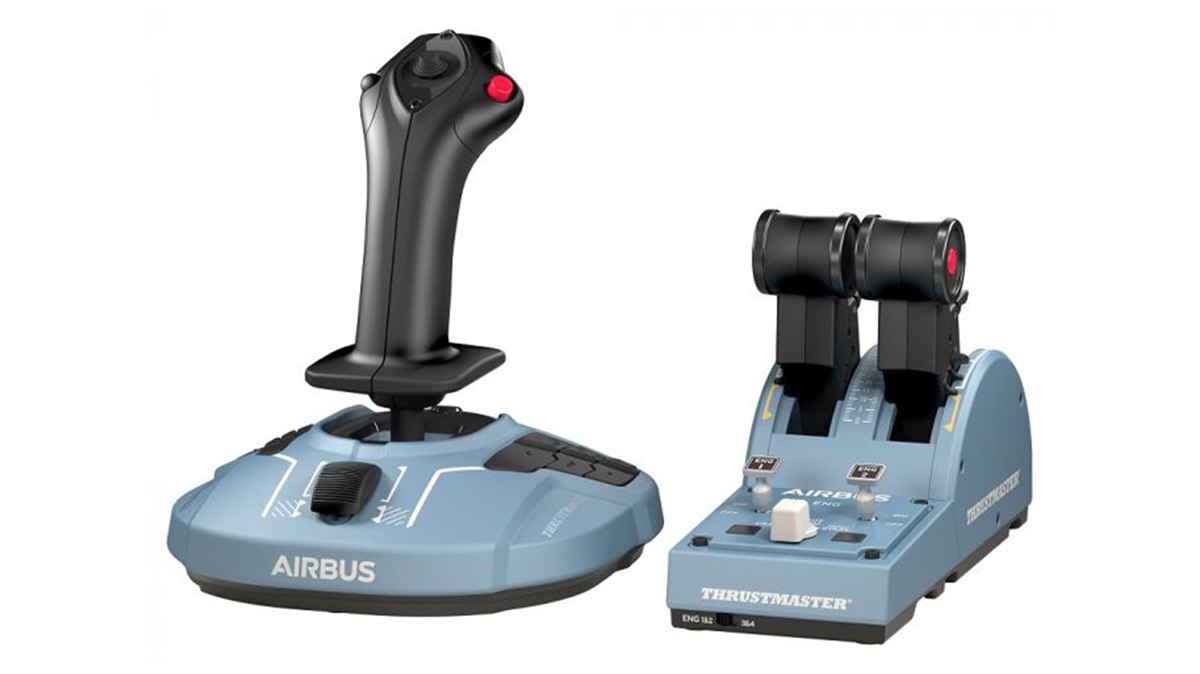 ---
Thrustmaster T.Flight HOTAS X
Whether you're just getting started with Microsoft Flight Simulator or you're migrating to your first stick-and-throttle experience, the Thrustmaster T.Flight HOTAS X is absolutely brilliant. The main reason is its sturdy build compared to its price. The base, in particular, feels solid even under the roughest conditions.
At the top of the stick, you'll find four buttons for your precision controls. The base holds 3 more buttons bringing the button count to a total of 7 which is pretty ideal for beginners and casual pilots. The throttle itself is just as minimalistic, which likely won't please experienced Flight Simulator players. It foregoes the thumbstick for a small set of simple buttons that won't win any clicking prizes but still get the job done.
While the T.Flight HOTAS X won't win any awards, it's a great starter stick for Microsoft Flight Simulator neophytes. It provides just enough controls and buttons to not overwhelm while also providing a solid build quality for its price. You'll inevitably want to step up to something with a more premium feel once you've logged a good amount of hours in the cockpit, though.
HOTAS or Yoke?
This is a common dilemma among flight simulator aficionados and the answer usually boils down to how important the authenticity of the experience is to you.
A HOTAS-style controller offers a lot more versatility if MSFS isn't the only sim you'll be taking flight in. A lot of the offerings on this list can be used in games like Elite Dangerous and other combat flight simulators. Joystick-style controllers also need less room for storage if your setup isn't dedicated to Flight Simulator. In a nutshell, flexibility is the name of the game with HOTAS controllers.
On the other hand, yokes attempt to mimic the feel of flying a commercial plane, which is what most Microsoft Flight Simulator enthusiasts shoot for. In many ways, a yoke also feels a bit more natural to use as it operates quite similarly to a driving wheel. Yokes tend to also be built to last as they're specialised pieces of kit and command a pretty penny. The trade-off for the fully immersive experience of taking to the skies is that yokes take up a lot of space and may require a dedicated setup for better comfort.
At the end of the day, it depends on what kind of experience you want to get out of playing Microsoft Flight Simulator. It is absolutely playable on a mouse and keyboard setup as well as a gamepad. Nothing, however, quite beats the feel of holding a stick or yoke in your hands as you take off into the big blue yonder.